Art-ing About During the Dog Days of Summer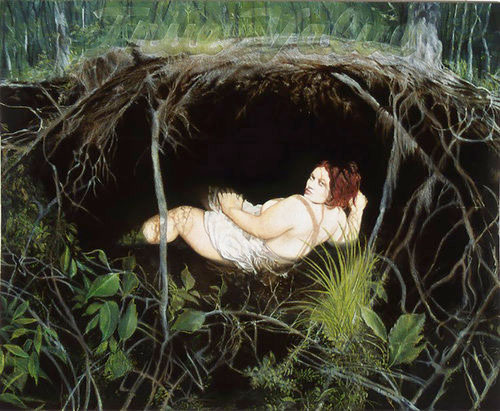 For the Greeks and Romans, the "dog days" occurred around the time when the Dog Star Sirius appears to rise just before the sun, in late July and continuing through August. They referred to these days as the hottest time of the year, a period that could bring confusion, fever, or even catastrophe.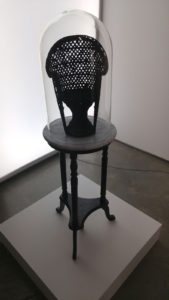 Fittingly, I traveled with a group of ArtTable members in the midst of the summer monsoons to visit The School in Kinderhook, NY – Gallerist Jack Shainman's upstate venue for larger scaled works, exhibitions and art storage. More relaxed than market-driven Chelsea, works by one of my favorite artists, Radcliffe Bailey, were on display including his Theorist's Throne (2012), an appropriation of the iconic photograph of Huey Newton in the Peacock Chair that became a symbol for the Black Panthers. Here in a bell jar, traditionally used for covering delicate objects or depicting an environment in which someone is protected from the outside world, the artist alludes both to the memory and to the vacuum left after Newton's demise.
We then headed south to the Kingston/Woodstock area for a delightful respite at Stoneleaf Retreat, Helen Toomer's Artist-in-Residence program for women artists. Somewhere around New Paltz I believe our mini-bus hydroplaned through increasingly deep waters. Painter Theresa Chromati, Performance Artist Katiushka Melo and Photographer Rebecca Reeve, introduced us to their work and what it means to participate creatively as women artists in this almost ideal environment for work and reflection.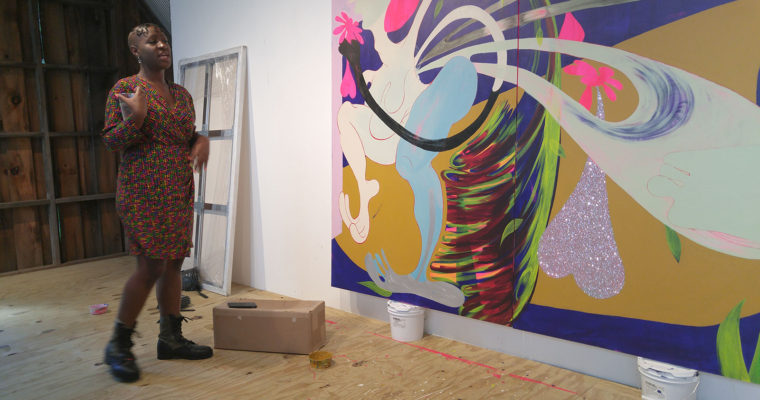 The Fall Season looks promising: Opening on September 7 at A.I.R. Gallery is True Value: The Works of Brookie Maxwell, 1956-2015. The late activist artist and a dear friend, created narrative paintings, sculptures and installations that were often controversial and included multi-disciplinary collaborations with actors, dancers and members of the communities she engaged.
I'm looking forward to Soul of a Nation: Art in the Age of Black Power at the Brooklyn Museum, and the major retrospect of Charles White at MoMA in October. Off to Expo Chicago late September and will bring you highlights from one of the first art fairs nationwide in a city that is having a new artistic and cultural renaissance. Cheers!

Images (top to bottom): Brookie Maxwell, True Value (2004); Radcliffe Bailey, Theorist's Throne (2012); Rebecca Reeve at Stoneleaf Retreat; Theresa Chromati at Stoneleaf Retreat; ArtTable Members at the School, Kinderhook, NY.


---